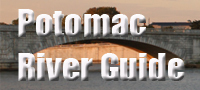 Georgetown to Great Falls
From Rock Creek to Great Falls is a fascinating area as the Potomac changes from a free-flowing stream to a tidal estuary. Within a few miles of the White House, kayakers can navigate world-class whitewater. Click on a marker or choose a site below for details.
Georgetown to Great Falls Sites
Abner Cloud House
Alexandria Aqueduct
American Legion Bridge at Cabin John
Anglers Inn - River Access
Billy Goat Trail
Cabin John
Capital Crescent Trail
Capitol River Cruises
Carderock Division Naval Surface Warfare Center
Carderock Recreation Area
Chain Bridge
Clara Barton House
Claude Moore Farm
D.C. Harbor Cruises
Dalecarlia Treatment Plant
DC Cruises
Fletchers Cove
Francis Scott Key Bridge and Aqueduct Bridge Site
George Washington Memorial Parkway
Georgetown
Georgetown Reservoir
Georgetown University
Georgetown Waterfront Park
Glen Echo Park
Great Falls and the Potomac Gorge
Great Falls Park, VA
Great Falls Tavern, MD
House of Sweden
Irish Inn at Glen Echo
Key Bridge Boathouse
Little Falls
Little Falls Pumping Station
Little Falls Skirting Canal
Lockhouse 10
Lockouse 6
Mather Gorge
Minnies Island
Montgomery County
National River Tours
Old Anglers Inn
Old Stone House
Patowmack Canal
Peirce Mill
Plummers Island
Potomac Boat Club
Potomac Heritage Trail
Potomac Overlook Regional Park
Potomac River at Wisconsin Ave.
Rock Creek
Rock Creek at Sherrill Drive
Rock Creek Park
Scotts Run Nature Preserve
Sequoia Restaurant
Shad Restoration
Sycamore Island Club
Thompson Boat Center
Tide Lock
Washington Aqueduct
Washington Canoe Club
Washington Harbour
Georgetown to Great Falls
From Rock Creek to Great Falls is a fascinating area as the Potomac changes from a free-flowing stream to a tidal estuary. Within a few miles of the White House, kayakers can navigate world-class whitewater. Click on a marker or choose a site below for details. Abner Cloud House

Alexandria Aqueduct

American Legion Bridge at Cabin John

Anglers Inn - River Access

Billy Goat Trail

Cabin John

Capital Crescent Trail

Capitol River Cruises

Carderock Division Naval Surface Warfare Center

Carderock Recreation Area

Chain Bridge

Clara Barton House

Claude Moore Farm

D.C. Harbor Cruises

Dalecarlia Treatment Plant

DC Cruises

Fletchers Cove

Francis Scott Key Bridge and Aqueduct Bridge Site

George Washington Memorial Parkway

Georgetown

Georgetown Reservoir

Georgetown University

Georgetown Waterfront Park

Glen Echo Park

Great Falls and the Potomac Gorge

Great Falls Park, VA

Great Falls Tavern, MD

House of Sweden

Irish Inn at Glen Echo

Key Bridge Boathouse

Little Falls

Little Falls Pumping Station

Little Falls Skirting Canal

Lockhouse 10

Lockouse 6

Mather Gorge

Minnies Island

Montgomery County

National River Tours

Old Anglers Inn

Old Stone House

Patowmack Canal

Peirce Mill

Plummers Island

Potomac Boat Club

Potomac Heritage Trail

Potomac Overlook Regional Park

Potomac River at Wisconsin Ave.

Rock Creek

Rock Creek at Sherrill Drive

Rock Creek Park

Scotts Run Nature Preserve

Sequoia Restaurant

Shad Restoration

Sycamore Island Club

Thompson Boat Center

Tide Lock

Washington Aqueduct

Washington Canoe Club

Washington Harbour