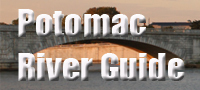 Capital Crescent Trail
Washington-Maryland Recreation Site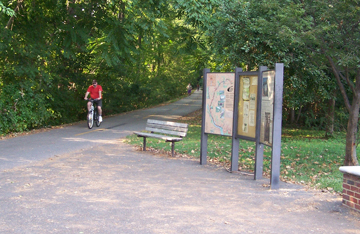 The Capital Crescent Trail is one of the Washington area's most popular multi-use trails. An abandoned rail line from Silver Spring through Bethesda, Maryland once brought coal to Georgetown along a semi-circle route. Called the "Capital Crescent" because of its semi-circular shape, the trail follows Little Falls Parkway from Bethesda to the Dalecarlia Reservoir and crosses Canal Road just below Little Falls. The path then continues on the river side of the canal for approximately 4 miles past Fletcher's Boat House toward Georgetown. The old railroad bridge crossing Canal Road at Arizona Ave. allows trail users to reach the Potomac shoreline. Where the trail crosses River Road, a bridge was completed in 1996. In Bethesda, a tunnel connects to take the trail under Wisconsin Avenue.
Originally part of the CSX Railroad, the rail line ran 14 miles from Silver Spring to Georgetown. CSX abandoned the rail line in 1985 and later sold it to Montgomery County for $10 million. The section from Bethesda to Silver Spring is being turned into a combined trail/light rail trolley as part of the "Purple Line" that would connect Bethesda to College Park. The old rail right-of-way provides a smooth, level path more than 10 feet wide.
Yelp reviews of the Capital Crescent Trail are shown below.
Contact Information
Maryland National Capital Park and Planning Commission
9500 Brunett Ave.
Silver Spring MD 20901
202-234-4874
Website