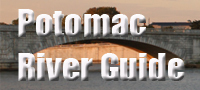 Chain Bridge
Potomac River Highway Bridge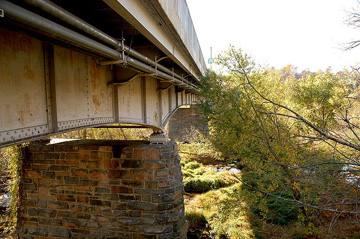 The first bridge over the Potomac River in the Washington area was built near the present-day Chain Bridge, just below Little Falls. Captain John Smith visited here in 1608 on his trip up the river; visitors since have traveled across the Potomac on eight different structures. The term "Chain Bridge" comes from the third bridge at the site, a chain suspension bridge. The first bridge was built in 1797, a wooden covered bridge that replaced a ferry. The toll in 1797 was twenty-five cents for a two-wheeled vehicle--even George Washington complained about the expense. The Georgetown Bridge Company built a second wooden bridge when the first collapsed in 1804, but it was too low (only 37 feet above low water) and carried away in a flood later that year. The chain structure was 136 feet long, with two chains made from wrought iron bars suspending the bridge from two stone towers. Tolls were increased to $1 for a two-horse carriage in 1810. The chain structure was washed away two years later; in 1840, its replacement was also damaged and replaced. Later structures abandoned the chains, in favor of stone piers and arched trusses. Piers dating from the 1860s are still visible. The seventh bridge was built in 1870 of wrought iron, at 1350 feet long. This structure remained in service until the automobile era, and only the record Potomac flood of 1936 forced its closure. The present Chain Bridge, a continuous steel girder structure, was built in 1939 using the original 1870 stone piers. The bridge was rehabilitated in the early 1980s, and is one of the most scenic and dramatic Potomac crossings.
Nearby Potomac River Crossings

Upstream

Downstream
Yelp reviews for Chain Bridge are shown below.
Contact Information
District of Columbia Dept. of Transportation
2000 14th St. N.W.
Washington DC 20009
202-673-6813
Website