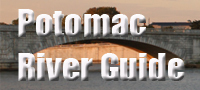 Potomac Boat Club
Washington Historic Site

The Potomac Boat Club is a private rowing club located near the terminus of the Capital Crescent Trail in Washington. It was founded in 1869 and is the oldest rowing club in the Washington area. The boathouse has survived several floods and other natural catastrophies.
The club serves as host for the "Scullers' Head of the Potomac," a fall regatta that has been conducted on the Potomac since 1981. The club's 300 members range from recreational rowers to Olympic athletes and is the home of the Washington-Lee High School crew.
Yelp reviews of the Potomac Boat Club are shown below.
Contact Information
Potomac Boat Club
3530 Water Street N.W.
Washington DC 20007
202-333-9737
Website