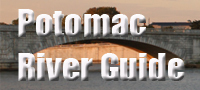 Potomac Heritage Trail
Historic Trail

Linking the Potomac and upper Ohio river basins, the Potomac Heritage Trail network follows the paths explored by George Washington. You can follow the same routes today???on foot, bicycle, horse and by boat???exploring contrasting landscapes between the Chesapeake Bay and the Allegheny Plateau.
The trail is an evolving network of locally-managed trails and routes between the mouth of the River at the Chesapeake Bay to the Allegheny Plateau in the upper Ohio River basin. Trails in the Maryland/D.C./Pennsylvania segments of the Trail corridor make it possible to hike 350 miles from Washington, D.C., to Seward, Pennsylvania, all on trails and sidewalks. South of Washington, D.C., there are many places that offer superb hiking, with more opportunities on the horizon.
On the Virginia side of the Potomac River, local trail advocates are bringing into focus a continuous footpath between Locust Shade Park in southern Prince William County and White's Ferry near Leesburg, Virginia, in Loudoun County - a distance of about a hundred miles. Hikers will be able to cross the Potomac on the ferry and either continue north on the C&O Canal Towpath or head south toward Georgetown to complete a loop.Yelp reviews for the Potomac Heritage Trail are shown below.
Contact Information

Roosevelt Island DC to Allegheny Highlands PA
WV 25425
304-535-4014
Website