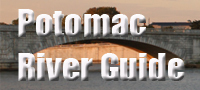 The Potomac Piedmont
Above Great Falls, the Potomac journeys through ridges and valleys. Click on a marker or choose a site below for details.
Potomac Piedmont Sites
Algonkian Regional Park
Algonkian Regional Park Boat Ramp
Appalachian National Scenic Trail
B and O Mainline Bridge at Harpers Ferry, WV
Bald Eagle Island Hiker Biker Campsite
Balls Bluff Battlefield Regional Park
Beans in the Belfry
Bles Park
Blockhouse Point Park
Bollman Abutments at Harpers Ferry, WV
Brunswick
Brunswick Boat Ramp
Brunswick Bridge
Brunswick Campground Boat Ramp
Buckeystown Community Park
Calico Rocks Hiker Biker Campsite
Catoctin Aqueduct
Catoctin Creek, VA
Chisel Branch Hiker Biker Campsite
Colvin Run Mill Historic Site
Corbalis Treatment Plant
Dam No. 2
Dickerson Conservation Park
Dickerson Power Plant
Dickerson South
Dickerson Whitewater Course
Dierssen Wildlife Sanctuary
Edwards Ferry
Edwards Ferry Boat Ramp
Elizabeth Mills Riverfront Park
Frederick County
Frederick, Md.
Gathland State Park
Goose Creek
Great Falls Historic Sites
Harper House
Harpers Ferry Access
Harpers Ferry Adventure Center
Harpers Ferry Armory Site
Harpers Ferry National Historical Park
Heaters Island Wildlife Management Area
Hiking in the Harpers Ferry Area
Horsepen Branch Hiker Biker Campsite
Indian Flats Hiker Biker Campsite
Jefferson County WV
Jefferson Rock
John Browns Fort
Lander Boat Ramp/Lock 29
Lansdowne Resort
Leesburg
Lilypons Water Gardens
Little Seneca Creek Near Clarksburg
Lockhouse 22
Lockhouse 25
Lockhouse 28
Loudoun County
Marble Quarry Hiker Biker Campsite
McKee Beshers Wildlife Management Area
McKimmey Boat Ramp
Monocacy Aqueduct
Monocacy Aqueduct Boat Ramp
Monocacy Battlefield/Gambrill Mill Access
Monocacy National Battlefield
Monocacy River and Water Trail
Monocacy River Boat Ramp
Nolands Ferry Boat Ramp
Oatlands
Pennyfield Conservation Area Boat Ramp
Pennyfield Lock
Pinecliff Park/Monocacy River
Point of Rocks
Point of Rocks Boat Ramp
Point of Rocks Bridge
Pooles General Store
Potomac Paddlesports
Potomac River at Point of Rocks
Red Rock Wilderness Overlook Regional Park
Restaurant at Patowmack Farm
River and Trail Outfitters
River Riders
Riverbend Park
Riverside Park City of Frederick
Seneca Aqueduct
Seneca Creek at Dawsonville
Seneca Creek State Park
Seneca Falls Canal
Seneca Landing Boat Ramp
Shenandoah Falls Canal
Shenandoah National Park
Shenandoah River
Shenandoah Subdivision Bridge at Harpers Ferry, WV
South Mountain State Park
St. Peters Catholic Church
Strider Wildlife Management Area
Sugarloaf Mountain
Swains Lock
Sycamore Landing
Temple Hall Farm Regional Park
Trump National Golf Club
Turtle Run Hiker Biker Campsite
U.S 340 Bridge Near Harpers Ferry, WV
Upper Monocacy River Boat Ramp
Valley Mill Kayak School
Violetts Lock
W&OD Regional Park
Water Recreation in the Harpers Ferry Area
Waterford
Watts Branch Stream Valley Park
Weverton
Whites Ferry
Whites Ferry Boat Ramp
Whites Ford
WSSC Potomac River Filtration Plant
The Potomac Piedmont
Above Great Falls, the Potomac journeys through ridges and valleys. Click on a marker or choose a site below for details. Algonkian Regional Park

Algonkian Regional Park Boat Ramp

Appalachian National Scenic Trail

B and O Mainline Bridge at Harpers Ferry, WV

Bald Eagle Island Hiker Biker Campsite

Balls Bluff Battlefield Regional Park

Beans in the Belfry

Bles Park

Blockhouse Point Park

Bollman Abutments at Harpers Ferry, WV

Brunswick

Brunswick Boat Ramp

Brunswick Bridge

Brunswick Campground Boat Ramp

Buckeystown Community Park

Calico Rocks Hiker Biker Campsite

Catoctin Aqueduct

Catoctin Creek, VA

Chisel Branch Hiker Biker Campsite

Colvin Run Mill Historic Site

Corbalis Treatment Plant

Dam No. 2

Dickerson Conservation Park

Dickerson Power Plant

Dickerson South

Dickerson Whitewater Course

Dierssen Wildlife Sanctuary

Edwards Ferry

Edwards Ferry Boat Ramp

Elizabeth Mills Riverfront Park

Frederick County

Frederick, Md.

Gathland State Park

Goose Creek

Great Falls Historic Sites

Harper House

Harpers Ferry Access

Harpers Ferry Adventure Center

Harpers Ferry Armory Site

Harpers Ferry National Historical Park

Heaters Island Wildlife Management Area

Hiking in the Harpers Ferry Area

Horsepen Branch Hiker Biker Campsite

Indian Flats Hiker Biker Campsite

Jefferson County WV

Jefferson Rock

John Browns Fort

Lander Boat Ramp/Lock 29

Lansdowne Resort

Leesburg

Lilypons Water Gardens

Little Seneca Creek Near Clarksburg

Lockhouse 22

Lockhouse 25

Lockhouse 28

Loudoun County

Marble Quarry Hiker Biker Campsite

McKee Beshers Wildlife Management Area

McKimmey Boat Ramp

Monocacy Aqueduct

Monocacy Aqueduct Boat Ramp

Monocacy Battlefield/Gambrill Mill Access

Monocacy National Battlefield

Monocacy River and Water Trail

Monocacy River Boat Ramp

Nolands Ferry Boat Ramp

Oatlands

Pennyfield Conservation Area Boat Ramp

Pennyfield Lock

Pinecliff Park/Monocacy River

Point of Rocks

Point of Rocks Boat Ramp

Point of Rocks Bridge

Pooles General Store

Potomac Paddlesports

Potomac River at Point of Rocks

Red Rock Wilderness Overlook Regional Park

Restaurant at Patowmack Farm

River and Trail Outfitters

River Riders

Riverbend Park

Riverside Park City of Frederick

Seneca Aqueduct

Seneca Creek at Dawsonville

Seneca Creek State Park

Seneca Falls Canal

Seneca Landing Boat Ramp

Shenandoah Falls Canal

Shenandoah National Park

Shenandoah River

Shenandoah Subdivision Bridge at Harpers Ferry, WV

South Mountain State Park

St. Peters Catholic Church

Strider Wildlife Management Area

Sugarloaf Mountain

Swains Lock

Sycamore Landing

Temple Hall Farm Regional Park

Trump National Golf Club

Turtle Run Hiker Biker Campsite

U.S 340 Bridge Near Harpers Ferry, WV

Upper Monocacy River Boat Ramp

Valley Mill Kayak School

Violetts Lock

W&OD Regional Park

Water Recreation in the Harpers Ferry Area

Waterford

Watts Branch Stream Valley Park

Weverton

Whites Ferry

Whites Ferry Boat Ramp

Whites Ford

WSSC Potomac River Filtration Plant