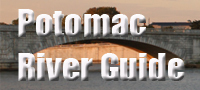 Weverton
Maryland Historic Site
Like the town of Brunswick, Weverton depended on railroad shops and repair yards, and grew as traffic on the canal increased. Caspar W. Wever, a civil engineer who built the first Potomac crossing at Harpers Ferry, attempted to build a mill here. Wever's plans included marble works, file factories, and other industrial development. The plan collapsed after his death, shortly after the Civil War. There is hardly a trace of the original Weverton visible along the river today.
The Potomac plunges through a divide in South Mountain at the "new" Weverton, Maryland. A dam was planned here across the Potomac, but was never built. Other plans bore fruit, including a utopian community in the mid-1800s.
The modern town of Weverton is located at the junction of Md. 67 and U.S. 340. Nearby is Sandy Hook, a small community with suppliers of canoes for rent or purchase, and other outdoor equipment. River and Trail Outfitters is a good source of information about current conditions on the Potomac and Shenandoah rivers.
Contact Information
B&O Railroad Historical Society
P.O. Box 24225
Baltimore MD 21227

Website