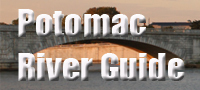 Monocacy Aqueduct
Canal Historic Site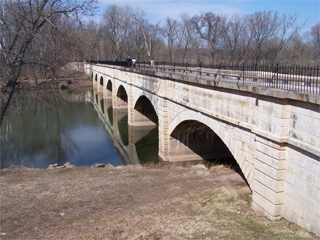 Where the Monocacy meets the Potomac, the Canal company built the Monocacy Aqueduct, which is now a beautiful picnic site and recreation area. The aqueduct, the largest on the canal, was completed in 1833, and features seven arches. It is probably the second-most impressive structure on the canal, after the Paw Paw Tunnel. White and pink limestone were used to build the aqueduct. The stones were quarried at Sugarloaf Mountain and carried by wagon or a special wooden-rail tramway built for the project. A Civil War battle, the Battle of Monocacy, was fought in July 1864 farther upstream.
The 516-foot-long aqueduct was damaged in the 1972 flooding associated with Tropical Storm Agnes. A steel banding system was wrapped around the fragile structure to keep it together, using rods and wood. This temporary solution stayed in place until 1996, when the aqueduct suffered major damage during two major floods. By 1998, the structure was considered one of the most endangered historic structures by the National Trust for Historic Preservation. After a major fundraising effort by the Chesapeake and Ohio Canal Association and grants from the American Society of Civil Engineers, a restoration project began in 2002. By 2005, additional funding was secured and the $6 million restoration project was completed.
Yelp reviews for the Monocacy Aqueduct are shown below.
Contact Information
C&O Canal National Historical Park
1850 Dual Highway, Suite 100
Hagerstown MD 21740

Website