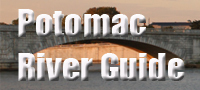 Potomac Riverwatch: May 18, 2018
NEWS
River Rising:
Following a dry spring, the Potomac basin currently is being deluged by rain and thunderstorms. Some regions of the basin will have received more than a foot of rain by this weekend. Whites Ferry is closed today (and yesterday) because of high water. The City of Frederick has declared and emergency due to flooding and is urging resident to limit water use to protect their wastewater plant. Frederick City and County wastewater plants are bypassing sewage. Some areas of the C&O Canal are washed out. Some flooding is expected. An update is available from the
Mid-Atlantic River Forecast Center.
(Source: Interstate Commission on the Potomac River Basin).
The Lockkeeper's House, a 185-year-old structure that once guided boats through Tiber Creek and the canals of Washington, DC, was moved from its location on Constitution Avenue and 17th Street N.W., to a new home--exactly 30 feet inland. The house, originally built in 1832, was located on the curb of a very busy intersection. It is the first step in a major renovation to the Mall, which will include rehabilitation of nearby Constitution Gardens.
Berkeley County, West Virginia is considering a proposal to develop the "Sportsman's Paradise" area along the Potomac for improved river access. Currently, the county doesn't have any public access sites on the Potomac, although its shoreline extends from north of Shepherdstown to near Big Pool, Md.
EVENTS
June 2 through July --Potomac Riverpalooza -- River paddle trips ranging from bird watching, fishing and snorkeling on the Shenandoah to overnight camping on the Potomac's beautiful Paw Paw Bends are just some of the events scheduled for this year's Potomac Riverkeeper RiverPalooza June 2– July 27! The two month long event is is a great opportunity for families and river enthusiasts. Details
October 29--50th Anniversary of Theodore Roosevelt Island--The Friends of Theodore Roosevelt Island will be joining the National Park Service to mark the 50th Anniversary of the creation of Theodore Roosevelt Island park. Speakers include Tweed Roosevelt, grandson of TR, and other authors. Activities include walking tours, historical reenactors, and the Teddy Bear Storytime for Kids. Details.
November 11, Cleanup at Fletcher's Cove -- The Potomac Conservancy and the C&O Canal Trust will be cleaning up the area Fletcher's Cove in D.C. More information.