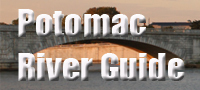 Potomac River at Paw Paw WV
USGS Streamflow Monitor

Federal and state agencies maintain river level monitors throughout the Potomac River Basin. The U.S.Geological Survey compiles real-time information from river monitors, in cooperation with the U.S. Army Corps of Engineers.
Current stream conditions are shown in the graph below:
The National Oceanic and Atmospheric Administration (NOAA) has an on-line river forecast service summarized below. Click on the Web link at right or below for detailed USGS data for this site.
For real-time data on this site, select this link.
Nearby Potomac River Stream Monitors

Upstream

Downstream
Contact Information
U.S. Geological Survey
5522 Research Park Drive
Baltimore MD 21228
443-498-5500
Website