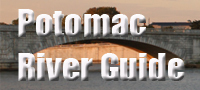 Cacapon Resort State Park
West Virginia State Park

Ten miles south of Berkeley Springs, this 6,100-acre park is a long, narrow preserve extending across West Virginia's Eastern Panhandle from Virginia almost to the Potomac. The park follows Cacapon Mountain. A park road, trails, and bridle paths climb 1,400 feet from the park lodge to the summit.
Cacapon Lake in the center of the park is surrounded by an 18-hole championship golf course. The Cacapon Lodge overlooks the golf course and has 50 guest rooms, a lounge, gift shop, and recreation room. The "Old Inn" has 11 rooms available during the summer months. The Old Inn was built of rough-hewn logs and has iron hardware, a stone chimney, and rooms paneled in chestnut and knotty pine. Cacapon Park also offers cabins, boating, swimming, tennis courts, and playgrounds. The park is open year-round. Reservations for cabin or lodge rooms can be made by calling Cacapon Park directly or by calling 1-800-225-5982. Reservations may be made up to a year in advance.
Yelp reviews for Cacapon Resort State Park are shown below.
Contact Information
Cacapon Resort State Park
818 Cacapon Lodge Drive
Berkeley Springs WV 25411
304-258-1022
Website