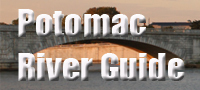 Port Tobacco Marina
Marina

This is a private marina on the Port Tobacco River near its headwaters. The facility has campsites, a restaurant, and three boat ramps. There are also rowboats and paddle boats for rent. The marina charges $6 ($7 on weekends) for use of the boat ramps.
The site is included in the publication Water Trails in Charles County. Select this link to download a copy of the map.
Yelp reviews for the Port Tobacco River Marina are shown below.
Contact Information
Port Tobacco Marina
Shirley Blvd.
Port Tobacco MD 20677
301-932-0062
Website