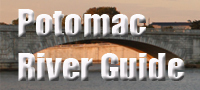 Mason Neck
Virginia Peninsula

The Great Marsh of Mason Neck lies in a protected area where the shoreline of the Potomac juts out into the main stem of the river. A number of small streams feed the marsh, and tidal forces deposit sediments and nutrients to create the marsh. An abundance of wild vegetation (including wild rice) grows here. The lush food source helps support numerous species.
The 10,000-acre peninsula is preserved by a variety of parks and public lands termed the Mason Neck Cooperative Management Area. Focus of the area is the Mason Neck National Wildlife Refuge, the only federal land in the U.S. devoted strictly to the preservation of the American Bald Eagle. Established in 1969, the wildlife refuge has grown to include 2,272 acres, several distinct ecosystems, the nests of several pairs of eagles, and more than 1200 pairs of great blue herons in one of the mid-Atlantic's largest great blue heron colonies (see also the Nanjemoy Marsh Sanctuaries in Charles County, Md., on the opposite side of the Potomac).
Public lands on Mason Neck are managed by six different partners, including: Mason Neck State Park; the Elizabeth Hartwell National Wildlife Refuge, the Bureau of Land Management (Meadowood Special Recreation Area) the National Park Service (Potomac Heritage Trail), the Pohick Bay Regional Park Authority, and Gunston Hall, the 18th Century home of founding father George Mason.
Suggested Links
Contact Information
Fairfax County Government
12055 Government Center Parkway
Fairfax VA 22035
703-324-0872
Website