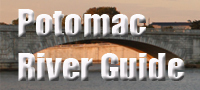 Potomac Riverwatch: Winter 2021
NEWS
White's Ferry Closes--
White's Ferry, the last ferry across the Potomac River, shut down suddenly in late 2020 after a dispute between the ferry owner and the owner of land on the Virginia shoreline. The ferry normally carries about 600 vehicles per day across the Potomac and is the only crossing between the American Legion Bridge (the Capital Beltway) and Point of Rocks. Ferry owenr Herbert Brown said in early February that he had offered $400,000 to the Virginia owners to allow him to reopen.
Details
Washington Channel Controversy--The U.S. Army is proposing to reduce the access to the Washington Channel near the Fort McNail Army base, following what the Army termed "credible and specific threats" in the area. The proposal would create a 300-foot perimeter in the channel where anchoring or loitering would be prohibited. Local business at the Wharf, along with D.C. Representative Eleanor Holmes Norton and the Potomac Riverkeeper organization, have objected to the proposal.More information.
River Quality Downgraded--For the first time in a decade, the Potomac River's health grade has declined--slipping from a B to a B-, according to an annual report released by the Potomac Conservancy. As recently as 2008, the river scored a dismal "D" in the annual survey, and improved to B or B- in the past few years. However, the Conservancy noted that heavy rains in the past few years, pollluted stormwater from urban and suburban areas, and rapid deforestation resulted in lower water quality for the river. Details
New Loudoun County Park--More than a mile of Potomac shoreline in Loudoun County, Virginia, will be added to the Northern Virginia regional park system, thanks to a $1 million grant from the federal Land and Water Conservation Fund. The 128-acre site is adjacent to the Springdale Park near Potomac Overlook Park along U.S. 15. Currently Springdale Park (shown on the map below) is closed to the public, but plans are to eventually include hiking trails, benches, picnic tables, and interpretive signs. Details.
Suggested Links