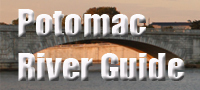 Fairfax Stone
West Virginia Historic Site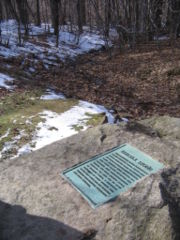 There are several western springs that could claim the right to be the source of the Potomac--and in fact, there was a great deal of confusion about the true source of the river in the early 1700s. In 1736, Colonel William Mayo set out to find the source of the river. He followed the North Branch Potomac to a spring that divided the watersheds. On one side, water flowed into the Ohio River drainage, into the Mississippi, and eventually into the Gulf of Mexico. On the other side, water flowed into the Potomac. Mayo determined that this spring was indeed the "first fountain" of the Potomac. A decade later, Lord Fairfax, whose land grants included all the area between the Potomac and the Rappahannock rivers, sent surveyors to mark his land in 1746. The party assumed that the North Branch flowed from the westernmost part of the river basin. So the team traveled up the North Branch and placed the Fairfax Stone at the spring that today marks its source.
In fact, the South Branch is longer and rises farther west, but the Fairfax Stone remains the traditional source of the Potomac. Maryland's westernmost boundary does not intersect the Fairfax Stone, because the spring that is the source of the North Branch promptly flows westward upon emerging from the ground. Where it crosses the line drawn north from the Fairfax Stone, there is another stone (Marker No. 1), identifying Maryland's southwestern tip. The marker is about 1 mile downstream from the Fairfax Stone, near Kempton, Md.
The name "Fairfax Stone" comes from a separate grant of Northern Virginia land made by King James II in September 1688, to Thomas Lord Culpeper, whose heir, Lord Fairfax, actually took possession. The present monument is a replica of the original stone, which lasted more than a century.
Suggested Links
Contact Information
West Virginia State Parks
U.S. 219
Thomas WV 26292

Website