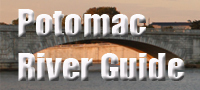 Little Orleans
Maryland Recreation Site

The town (canal mile 141) is famous for its General Store and the campground located on the canal nearby. Little Orleans was once located on the main route from Fort Frederick to Cumberland, but is accessible only by winding back roads now.
The original road stretched 80 miles from Fort Frederick to Fort Cumberland, requiring two crossings of the Potomac. During high water months, the crossing was extremely difficult. Thomas Cresap and others set out to find a shorter route between the two forts in the late 1750s. A route that avoided crossing the Potomac was found and became the primary route west until the National Pike was opened in 1830. The National Pike route is the same one followed by Interstate 68 today.
A ford once crossed the river to Orleans Cross Roads, West Virginia. A canal worker riot occurred here in 1848 when German workers were hired to replace striking Irish workers. Two Germans were killed; the Maryland state militia was called in.
Little Orleans is probably the second oldest community in the area, after Oldtown. The name, according to local legend, came from a French fur trader who was reminded of his hometown in Orleans, France. In the 1800s, the town of Orleans Crossroads (across the river) grew rapidly after the arrrival of the Baltimore and Ohio Railroad. On the Maryland side, the town was smaller--and thus the name "Little" Orleans.
The original Little Orleans Grocery, in a building that dated back more than a century, was destroyed by a fire in 2000. It was rebuilt in 2001 and renamed "Bill's Place" in honor of its owner, Bill Schoenadel, a printer at the Cumberland Times who operated the store. Read Daniel M.'s review of Bill's Place on Yelp
Suggested Links
Contact Information
C&O Canal National Historical Park
12716 High Germany Road
Little Orleans MD
301-478-2710
Website