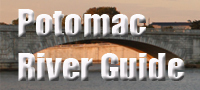 Seneca Falls Canal
Virginia Historic Site

On the Virginia side of the Potomac, a channel of the river was dug by the Patowmack Company in the 1780's. Now it's a great little canoe trip. The canal permitted boats to navigate around the rapids at Seneca. It was built in the late 1700s on the Virginia side of the Potomac more than 50 years before the creation of the C&O Canal. Today there is only a stone wall along the river banks as a reminder of the project, which was headed by George Washington.
The Patowmack structures were not true "canals," but improvements to existing river channels. At Seneca, rocks and obstructions in a channel were removed to allow water (and canal boats) to flow more easily.
Other evidence of the Patowmack Company canals can be found along the Potomac at the Little Falls Skirting Canal, in the District of Columbia; the Patowmack Canal Lock at Great Falls, Va.; the Shenandoah Falls near Harpers Ferry; and House Falls above Harpers Ferry in Maryland.
Suggested Links
Contact Information
Loudoun County

Leesburg VA

Website