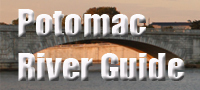 Water Recreation in the Harpers Ferry Area
Canoe/Kayak Access Point

As the Potomac descends from above the Blue Ridge to meet the Shenandoah, the river grows turbulent and provides excellent whitewater canoeing. But it is strictly for experienced paddlers.
Beginning at Millville, West Virginia, the Shenandoah descends to its confluence with the Potomac. The river runs flat for about 1.5 miles. But at "Entrance Rapids," the Shenandoah flows over a series of ledges--just a hint of the 3-foot drop at Bull Falls. At "The Stairsteps," the river descends 12 feet in 1 mile over a long series of ledges and under the U.S. 340 Bridge. When the Shenandoah finally hits the Potomac, a series of heavy rapids ensue--Mad Dog and Whitehorse Rapids are two of the more famous.
River and Trail Outfitters, 604 Valley Road, Knoxville MD 21758. Canoe rentals and guided raft trips on the Potomac and Antietam Creek; tubing; kayak lessons; cross-country skiing during the winter. Telephone: 301-695-5177.
Harpers Ferry Adventure Center., 10895 Harpers Ferry Road, Purcellville, VA 20132. Telephone: 540-668-9007
Historical River Tours, 1257 Allstadts Hill Road, Harpers Ferry, WV 25425. Telephone: 410-489-2837
River Riders, 408 Allstadts Hill Road, Harpers Ferry, WV 25425. Rafting, canoe and tubing trips. Telephone: 304-535-2663.
Suggested Links
Contact Information
River and Trail Outfitters
604 Valley Road
Knoxville MD 21758
888-445-7529
Website