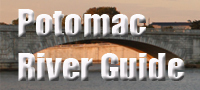 Monocacy River and Water Trail
Maryland Tributary

The third largest tributary of the Potomac flows through parts of Pennsylvania and central Maryland. The Monocacy's watershed includes the town of Frederick, Md., 13 miles upstream from the Potomac. The river is approximately 58 miles long, with its source in Adams County, Pennsylvania. The Monocacy is considered a Maryland Wild and Scenic River, but it suffers a considerable amount of pollution from nonpoint sources such as farms and livestock operations. The river can become extremely muddy after storms, as erosion and runoff contribute large amounts of sediment to the river.
Fishing and canoeing in the historic Monocacy River are excellent. The area from the Potomac River upstream to the dam at Buckeystown is considered "catch and release" for bass fishing by the Maryland Department of Natural Resources.
More than 41 miles of the Monocacy have been designated as a water trail through historic Civil War landscapes and American Indian settlements.
The Monocacy River Water Trail is part of the "Find Your Chesapeake" project of the National Park Service and the Chesapeake Conservancy. Click here for details.
The water trail is usually runnable in spring and early summer, and from late fall through the winter. For best results, check the USGS gauge at Jug Bridge for a water level of at least 2.1 feet. A detailed map of the water trail is available at this link.
A beautiful, peaceful canoe trip runs from Greenfield Mills on the Monocacy River to the confluence with the Potomac, and downriver to White's Ferry. Part of the trip passes through the Monocacy River Natural Resources Area, land along the river owned by the State of Maryland. Historic sites on the 2.5 mile trip include the Johnson Iron Furnace.
Current stream conditions are shown in the graph below:
The National Oceanic and Admospheric Administration (NOAA) has an on-line river forecast service for the Monocacy River below Frederick summarized below: Click here for detailed USGS data for this site.
Nearby Potomac River Stream Monitors

Upstream

Downstream
Suggested Links
Contact Information
Frederick County Government
12 East Church Street
Frederick MD 21701
301-600-9000
Website