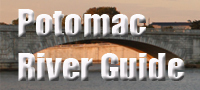 Great Falls and the Potomac Gorge
National Park Service Site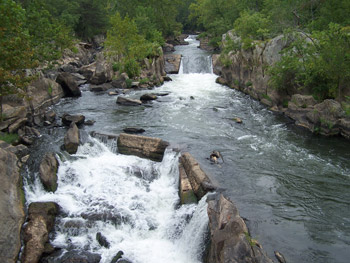 The Great Falls area is perhaps the most spectacular part of the Potomac River. The river plunges about 60 feet in less than a mile, then drives through a deep gorge. The geology of the area reveals the river's long and interesting history. The Potomac has been flowing through this area, cutting softer rocks for millions of years.
On the Maryland side of Great Falls, a trail and foot bridge lead to Olmstead Island, which has a self-guiding trail and spectacular panorama of the Falls. The bridge to Olmstead Island was destroyed in a flood in 1972, but it was rebuilt and restored with volunteer funds in the early 1990s.
Both Maryland and Virginia shores were the sites of canal projects. The Maryland side, of course, is where the C&O Canal follows the Potomac. But on the Virginia side are the remains of the Patowmack Canal, one of a series of "canalizations" that were meant to carry ships around the falls.
Note: There is a National Park Service parking fee of $20 for entrance to the Maryland side of Great Falls. Yelp reviews of Great Falls Tavern and Mather Gorge are shown below. Read Courtney K.'s review of Great Falls Tavern Visitor Center on Yelp
Suggested Links
Contact Information
C&O Canal National Historical Park
11701 MacArthur Blvd.
Potomac MD 20854
301-299-3613
Website