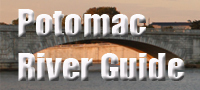 Minnies Island
Potomac Conservancy Site

Part of this eight-acre island's allure is its abrupt isolation, the diversity of the wildlife contrasted with its proximity to the city. The island is tucked in middle the Potomac River near Lock 8, only 10 miles from bustling Georgetown, and less than a mile from MacArthur Boulevard. Its location also makes it an ideal place for suburban and city students to learn about the unique island bio-diversity firsthand.
Along with Minnie's Island, the Conservancy owns two other islands, Sharpshin Island near Poolesville, and Golden Eye Island near Seneca Creek. The rest of the land it protects along the river is in a trust. The conservancy facilitates legal agreements between landowners called easements. The Conservancy is also involved in restoring the canal lockhouse at Lock 8.
Donated to the Potomac Conservancy, Minnie's Island is located adjacent to Lock 10 to the C&O Canal.
Suggested Links
Contact Information
Potomac Conservancy
8601 Georgia Ave. Suite 612
Silver Spring MD 20901

Website