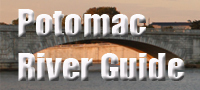 Shad Restoration
River Fish Ladder

Once the premier fish of the Potomac, American Shad have declined for decades to the point that they are rare anywhere in the Potomac. In the 1950s, dams such as the one at Little Falls, have blocked the pathways used by shad to spawn and feed near Great Falls.
In 1982, the state of Maryland enacted a ban on catching shad. But 15 years later, the U.S. Army Corps of Engineer has begun a project to make it easier for the shad to spawn. The $1.2 million project at Little Falls Dam puts shields around part of the dam to allow creation of "notches" that will allow shad and other migratory fish to pass through. In 2000, a new fishway was completed at Little Falls theat allows adult fish to bypass the dam on their journey upstream.
Shad are protected species and, if caught by fishermen, must be released. Shad are among several species that return each spring to the Little Falls area to spawn. Over the past eight years, more than 15 million shad fry have been stocked in the Potomac River in a project coordinated by the Interstate Commission on the Potomac River Basin. Hundreds of volunteers, including students from several schools, have worked on raising the young shad fry and releasing them in the river. The numbers of American shad collected upstream at Great Falls has steadily increased.
Suggested Links
Contact Information
Interstate Commission on the Potomac River Basin
51 Monroe St.
Rockville MD 20850

Website