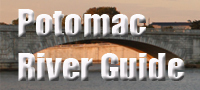 Washington Harbour
River Access/Restaurants
One of the largest developments in the past decade is the Washington Harbour complex, completed in 1986 on the site of a large cement plant on the Potomac waterfront, just upstream of Wisconsin Ave. N.W. The site includes shops, condominiums, restaurants, office space, and a large area for docking boats.
The project includes a ring of flood gates that are hidden below the sidewalk, but can be quickly raised around the outside of the building and courtyard. The gates, which slide up between decorative concrete posts, have been used several times since the construction of the project in 1986.
Washington Harbour was bitterly debated in the early 1980s, with preservationists urging the city government and the National Park Service to purchase the property for parkland. The cost of the land--worth nearly $40 million--stymied efforts to create a park on land that has, historically, been used for industrial purposes.
Immediately upstream from National Harbor is Georgetown Waterfront Park, a new park formerly used by the District of Columbia government to park towed automobiles.
Washington Harbour is also the departure point for several tour boats that travel down the Potomac.
Yelp reviews of Washington Harbour are shown below.
Read Phuong C.'s review of Washington Harbour on Yelp
Suggested Links
Contact Information
Washington Harbour
3000 K St. N.W.
Washington DC 20009
202-944-4200
Website