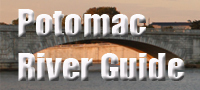 Paint Branch near Colesville MD
River Monitoring Site

Paint Branch is a small tributary of the Anacostia River north of Washington, D.C. The headwaters of Paint Branch have the only trout fishery in the Washington Area. USGS has a streamflow gage in upper Paint Branch near Wheaton Regional Park in Montgomery County. The area above the gage is approximately 1 square mile. The gage has been in operation since November 2006.
Current stream conditions are shown in the graph below:
Federal and state agencies maintain river level monitors throughout the Potomac River Basin. The U.S.Geological Survey compiles real-time information from river monitors, in cooperation with the U.S. Army Corps of Engineers and the National Oceanic and Atmospheric Administration (NOAA).
For detailed USGS data on this site, select this link.
Nearby Potomac River Stream Monitors

Upstream

Downstream
Suggested Links
Contact Information
U.S. Geological Survey
5522 Research Park Drive
Baltimore MD 21228
443-498-5500
Website