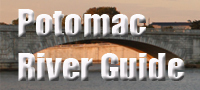 Fort Foote
National Park Service Unit

About 4 miles upstream from Fort Washington is Fort Foote, a federal reservation of about 70 acres established in 1863. The fort was used as a drill grounds for the U.S. Engineering Corps in the early 1900s.
At the start of the Civil War, the City of Washington was protected only by Fort Washington (see above). Confederate troops were stationed in Northern Virginia. The Union hastily established a ring of 68 forts around Washington to protect the city. Fort Foote was the largest and southernmost of the forts.
On a bluff 100 feet above the Potomac, 12 heavy guns protected the city of Washington from Confederate forces. Two of the large guns, 15-inch Rodman smoothbore cannons, have been at the fort since 1864. They have never been moved, probably because of their weight. They used 40 pounds of black powder and a crew of 12 to shoot projectiles with a range of 3 miles.
The city's fort system was completed in 1864. In 1865, the war ended; by 1866, most of the forts were abandoned. Fort Foote still has those big cannons, the earthworks of the fort, and the remains of several buildings, as well as picnic areas.
Fort Foote is part of the "Find Your Chesapeake" project of the National Park Service and the Chesapeake Conservancy. Click here for details.
Suggested Links
Contact Information
National Capital Parks East
1100 Ohio Drive SW
Washington DC 20242

Website