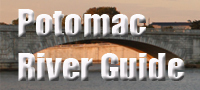 Fort Washington
National Historical Park

Directly upstream of the Piscataway Park, Fort Washington National Historical Park includes the site of the first fort built to protect the National Capital. The site occupies a high point on a bend in the Potomac, with excellent views both up and down the river. The site was recommended by George Washington for the new city's defense, but was not purchased for fortifications until 1808. The early fort was inadequate. During the War of 1812, it was taken by the British without a shot during their 1814 raid on Washington.
On August 19, 1814, British forces landed at Benedict, Md., a town on the nearby Patuxent River. They marched to Washington, through Bladensburg, and burned the Capitol, the White House, and other buildings. The following day, the British navy sent warships directly up the Potomac, headed for Alexandria. U.S. Captain Samuel Dyson realized that his fort would be inadequate for the coming battle, so he evacuated his men and used the munitions at the fort to destroy it, rather than turn it over to the British. Work on the present fort began soon after the earlier fort was destroyed, but was halted during a dispute between the fort's designer, Pierre L'Enfant, and the Army. By the mid-1800s, the fort was completed, and faced a new challenge: it was the only Civil War defense on the Potomac between Washington and Virginia.
In 1856, a small light was constructed at Fort Washington, later replaced by a 28-foot fog bell tower, and a light was put on top of it. The Fort Washington Lighthouse served until 1939. It still has a small light on it. For more information on the Fort Washington Lighthouse, select this link.
Fort Washington is part of the "Find Your Chesapeake" project of the National Park Service and the Chesapeake Conservancy. Click here for details.
Yelp reviews for Fort Washington are shown below. Read Alma K.'s review of Fort Washington National Park on Yelp
Suggested Links
Contact Information
National Capital Parks East
1100 Ohio Drive SW
Washington DC 20242

Website