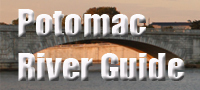 Occoquan
Virginia Town

One of the most historic communities in Prince William County, the tiny town of Occoquan shares its name with the Occoquan River, the principal source of drinking water for 750,000 Northern Virginians, and a major Potomac tributary.
According to legend, "Occoquan" is an Indian term meaning "at the end of the water." The town had only a small tobacco warehouse in 1734, but experienced a boom in the early 1800s, when Nathaniel Ellicott and his brother Thomas set up a flour mill and later a cotton mill.
The town prospered until the Civil War, when it was the site of several skirmishes between Union forces and Confederate General Wade Hampton, who used an Occoquan hotel as his headquarters. After the Civil War, the Occoquan River harbor began to fill with silt, but commerce continued to develop. When U.S. Route 1 bypassed the town in 1928, the town began a decline that lasted until the early 1970s, when the town was flooded after Tropical Storm Agnes. Interstate 95 and a marina with access to the Potomac have brought new life, restoration of many of the old structures, as well as festivals and craft shows. Occoquan has become a major arts community.
For more information on the shops and events in Historic Occoquan, select this link.
Suggested Links
Contact Information
Town of Occoquan
200 Mill Street
Occoquan VA 22125

Website