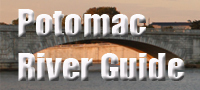 Port Tobacco
Maryland Historic Site

Today, it is hard to imagine that the town of Port Tobacco was ever a port. The river that once flowed past its busy tobacco wharf is now completely silted in. Father Andrew White did pioneering missionary work here among the Indians in the 1600s. Originally, the town of Port Tobacco was known as Charlestown, but the town's name was changed in 1820 to reflect the principal industry. The marsh that is now the Port Tobacco River is a classic example of erosion of the tobacco lands and siltation of the creek from poor soil conservation methods.
The town of Port Tobacco, at the head of the Port Tobacco River was a bustling port, but by 1775, the creek could only carry small boats. Today the only remaining parts of the town are the courthouse and four houses that surround the courthouse. The port is now a marsh behind the courthouse.
The town played an important role in the plot to kidnap President Lincoln during the Civil War, a plot which ended in Lincoln's death. Lincoln's assassin, John Wilkes Booth, passed through here on his legendary escape route south after shooting the President.
Suggested Links
Contact Information
Town of Port Tobacco
P.O. Box 344
Port Tobacco MD 20677
301-934-2474
Website