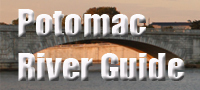 Colonial Beach
Virginia Town

This town, although small in population, contains the second largest beach front in the state of Virginia, second only to Virginia Beach. Once the most popular summer resort along the lower Potomac, this Victorian river town had a summer population of 10,000 in 1912--and a winter population of 700. Currently, the summer population swells to nearly 15,000, and is continuing to grow.
The town flourished during the slot machine era in Southern Maryland. Since Maryland owned the Potomac River up to the low water mark on the Virginia shoreline, it was possible for crafty resort owners on the Virginia shore to build piers out into Maryland waters (separated by an inch or two of space in the boardwalk)--and claim that their establishment was in Charles County, Md. All of this worked to the advantage of Colonial Beach entrepreneurs until Charles County banned the slots in 1968. Colonial Beach thereby went into something of a decline, but has recently begun to flourish again. One of the old casinos, now a restaurant, has opened an off-track betting parlor and also sells Maryland and Virginia lottery tickets.
The community features antique and craft shops, restaurants, hotels/motels, and marinas. A sandy beach offers swimming in the Potomac with lifeguards on duty Thursdays through Sundays during the summer. The Colonial Beach Yacht Center features wind-surfing lessons and boat rentals. The town hosts a number of special events, such as Market Days, concerts, a large Potomac River Festival, and a 4th of July celebration. Colonial Beach is still a popular fishermen's port as well as the headquarters for the Potomac River Fisheries Commission, which regulates shellfishing in area.
Yelp reviews of Colonial Beach are shown below. Read Valerie B.'s review of Visit Colonial Beach Virginia CBVA on Yelp
Suggested Links
Contact Information
Town of Colonial Beach
18 North Irving Ave.
Colonial Beach VA 22443
804-224-7181
Website