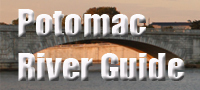 Smith Point
Virginia Historic Site

Smith Point is the southernmost point of the Potomac River, a location that has been vulnerable to erosion, storms, and war.
As early as 1802, Thomas Jefferson appointed a lighthouse keeper to manage the lighthouse at Smith Point. Erosion threatened the lighthouse, and in 1808 it was replaced with a lighthouse further inland. But that proved not to work well; in 1828 it was replaced with a third lighthouse. Eventually, a lightship was set up. During the Civil War, it was destroyed. A new lighthouse was finally built in 1896--this one lasted until 1936.
The Smith Point Light was automated in 1971. In 2005, the lighthouse was sold to a private owner for $170,000. It remains in active use. It is located 2.5 miles east of Smith Point, Va. and is accessible only by boat.
Suggested Links
Contact Information
Northumberland County Government
P.O. Box 129
Heathsville VA 22473
804-580-7666
Website