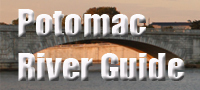 Coan River
Virginia Tributary

The Coan River is the first major tributary of the Potomac upstream of Smith Point, where the Potomac meets Chesapeake Bay. The Coan runs for 7.5 miles through Virginia's Northern Neck. It starts near Heathsville, Va., and flows through Northumberland County to enter the Potomac near Lewisetta.
The Northern Neck area has developed several water trails of the Coan River area. The Upper Coan River Trail starts near an old steamboat landing and follows the river upstream to Rowes Landing Road. The total length of the water trail is 4.9 miles. To download a copy of the water trail map, select this link.
The Lower Coan River Water Trail runs near the Potomac from the Lewisetta Marina boat ramp across the Glebe River to Walnut Point and back for a total length of 3.9 miles. To download a copy, select this link.
Suggested Links
Contact Information
Virginia Department of Conservation and Recreation

VA

Website