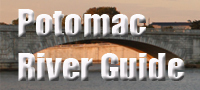 Wicomico River
Maryland River

Historic tributary of the Lower Potomac, marked by the Cobb Point lighthouse on the Potomac (established in 1889), this river marks the boundary between St. Mary's County and Charles County. Christ Church (originally built in 1692 and rebuilt in 1737) and the "Hard Bargain" manor are found near the Wicomico. Fishermen and boaters can find bustling marinas and seafood restaurants at the confluence of the Wicomico and the Potomac. From U.S. 301 on the Charles County shores of the Wicomico, Route 257 and then Route 254 lead to Cobb Island, with its many riverfront cottages.
Farther up the river a modern-day ritual takes place on the Wicomico in Charles County: the return each February of the yellow perch at Allens Fresh. Boat launching sites on the Wicomico include the town of Allens Fresh and Bushwood Wharf, west on Bushwood Road from Md. 238, and Chaptico wharf ramp, off Md. 238 in Chaptico. Allens Fresh has the distinction of being one of the terminals of the first mail route established in the American colonies in 1695. Mail was carried to Philadelphia and back eight times each year.
The upper Wicomico River is the site of two auto racing sites: The Maryland International Raceway and the Potomac Speedway, both located off Route 234 at Budds Creek. A recent expansion of the Maryland International Raceway expanded the capacity of the raceway from 6,000 to 11,000 spectators. Maryland International is part of the International Hot Rod Association, which focuses on amateur drag racing.
Suggested Links
Contact Information
Charles County Government
10 Centennial Street Suite C
La Plata MD 20646
301-645-0558
Website