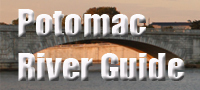 St. Clements Island-Potomac River Museum
Maryland Historic Site

The museum is located on Colton Point opposite St. Clement's Island. Exhibits feature the saga of the first Maryland colonists as they ventured across a hostile ocean to settle a new land far from England. Exhibits are presented through the eyes of historic characters who relate their story to visitors through first-person experiences. Featured are Father Andrew White, Leonard Calvert, Mathias DeSousa, and Rose Gilbert. The museum also features exhibits on the maritime history of the lower Potomac River.
During the summer, the museum is open 9 a.m. to 4 p.m. on weekdays and noon to 5 p.m. on weekends. In winter, the museum is open Wednesday through Sunday, noon to 4 p.m.
St. Clements Island Museum is part of St. Clements Island State Park.
St. Clement's Island is a site on the Southern Maryland Religious Freedom Byway, a route of historic sites dealing with the establishment of religious freedom in the U.S. Read Larry DreamVacations M.'s review of St. Clement's Island Museum on Yelp
Suggested Links
Contact Information
St. Clements Island Museum
38370 Point Breeze Road
Coltons Point MD 20626
301-769-2222
Website