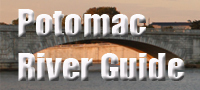 George Mason Memorial Bridge at 14th St.
Potomac River Highway Bridge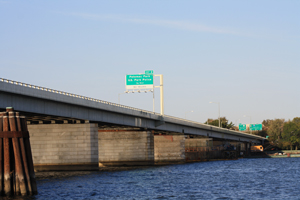 A group of three spans across the Potomac is known collectively as the "14th St. Bridge." Although never considered a decorative part of the "Grand Plan," this site has become an important river crossing. Three highway bridges, a railroad bridge, and more recently, a Washington Metropolitan Transit Authority transit bridge cross the Potomac at this point. As early as 1809, a wooden toll bridge, known as the Long Bridge, was built here. The original structure had two draw spans at each end. It was burned by the Americans as they fled Washington during the British attack in 1814. The bridge was repaired, but damaged again in 1831. A replacement bridge was built by the federal government. The site, subject to strong forces from floods and ice formations, is not necessarily the best location for a Potomac crossing, but bridges here have always been heavily used. Another span was added in 1863, and the Baltimore and Potomac Railroad shared the site, with one structure carrying both railroad and vehicle traffic. In 1901, the railroad was authorized to remove the original wooden structure and build a separate bridge. The federal and district governments financed a new vehicle crossing. The "Highway Bridge," as it was called, was a steel structure designed by the U.S. Army Corps of Engineers. It was found inadequate for automobile traffic, and replaced in 1947 by two four-lane bridges, known collectively as the "14th Street Bridge." The first, called the Rochambeau Bridge, was opened in 1950; the second, called the George Mason Bridge, was completed in 1962. A third bridge was completed in 1971 to carry bus traffic and carpools.
Nearby Potomac River Crossings

Upstream

Downstream
Suggested Links
Contact Information
District of Columbia Department of Transportation
2000 14th St. N.W.
Washington DC 20009
202-673-6813
Website