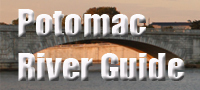 Francis Scott Key Bridge and Aqueduct Site
Potomac River Highway Bridge

The Potomac crossing from the west end of Georgetown into Virginia, now occupied by the Francis Scott Key Bridge, has a long and fascinating history. It was originally the site of the Alexandria Aqueduct, which carried boats and later wheeled traffic across the river. In 1830, merchants from Alexandria proposed linking their city to Georgetown to capitalize on the new Chesapeake and Ohio Canal. Congress granted a charter to the Alexandria Canal Company in 1830, and construction began soon on an aqueduct bridge that would carry canal boats across the Potomac and downriver on the Virginia side without unloading in Georgetown. Construction of the bridge and Alexandria Canal began in 1833; both were completed a decade later. Piers of the aqueduct were built of heavy stone blocks to withstand Potomac ice floes. The water-filled bridge was built of weatherproofed timbers. The Aqueduct Bridge remained in operation until the Civil War, when it was drained and turned into a roadway. After the war, however, private owners restored the waterway and added a toll road on top. In the 1880s, the old bridge was sold to the federal government and replaced by a light iron truss bridge for wheeled traffic.
Congress authorized the complete replacement of the aging Aqueduct Bridge in 1916. The Army Corps of Engineers built the low-cost, concrete structure for $2.5 million from 1917 to 1923. Construction was difficult in the Potomac, and the bridge utilized new construction techniques and concrete forming in huge arches. Key Bridge carries a large volume of commuter traffic to and from Virginia each day, and has become an important link to the burgeoning city of Rosslyn, Va. (When traffic is jammed, Washingtonians refer to the bridge as "The Car-Strangled Spanner.")
After Key Bridge was completed in 1923, the old superstructure of the Aqueduct Bridge was removed. The piers remained until 1962; now only one set of piers is still visible. The north abutment can be seen under the Whitehurst Freeway near the Potomac Boat Club. At the north end of Old Town, Alexandria, the Trans-Potomac Center has built a replica of one of the four locks at the other end of the Alexandria Canal. Aside from the piers near Key Bridge, all the other features of the canal have been buried or removed.
Nearby Potomac River Crossings

Upstream

Downstream
Yelp reviews for the Francis Scott Key Bridge are shown below. Read Dominik D.'s review of The Francis Scott Key Bridge on Yelp
Suggested Links
Contact Information
District of Columbia Dept. of Transportation
2000 14th St. N.W.
Washington DC 20009
202-673-6813
Website