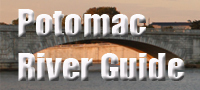 Cumberland Blue Bridge
North Branch Potomac River Highway Bridge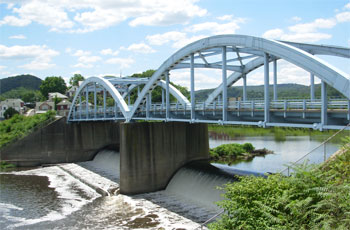 A Cumberland landmark, the distinctive Blue Bridge crosses the North Branch Potomac from Cumberland to Ridgeley, West Virginia. The bridge consists of two steel arches and is 315 feet long. It was built in 1954 and painted bright blue--a color that has lasted for more than half a century. The Blue Bridge connects Md. 942, also know as Johnson Street, to alternate West Virginia Route 28. In 2010, the City of Cumberland and the U.S. Army Corps of Engineers began removal of a large industrial dam under the bridge to increase recreational use of the Potomac.
Several bridges cross the Potomac at Cumberland, Maryland, including State Road 28 and Bridge Street. In addition, Interstate 68 and U.S. 220 parallel the river along the Maryland shore.
Photo by Larry Sampson.
Nearby Potomac River Crossings

Upstream

Downstream
Suggested Links
Contact Information
Maryland State Highway Administration
1251 Vocke Road
LaVale MD 21502
301-729-8401
Website