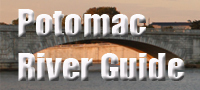 Treatment Plant Bridge at Westernport, Md.
North Branch Potomac River Railroad Bridge

The bridge is part of the Upper Potomac River Commission wastewater treatment plant at Westernport, Md.. The plant opened in 1960 to treat wastewater from the towns of the North branch as well as the industrial wastwater from the paper mill at Luke. The commission also owns and operates the Savage River reservoir and dam, regulating the flow of the Potomac along with the Army Corps of Engineers.
Nearby Potomac River Crossings

Upstream

Downstream
Suggested Links
Contact Information
Upper Potomac River Commission
528 Maryland Ave.
Westernport MD 21562

Website