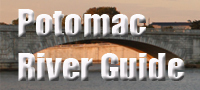 St. Marys River State Park Boat Ramp
River Access Point

St. Mary's River State Park has a boat ramp on St. Mary's Lake for small boats. There is a restriction for electric motors only. The site has 2 ramps and 100 parking spaces, as well as restrooms. The site charges a fee for use. From Route 5, follow Camp Saoma Road north to the ramp.
Parking for this site is available on Old State House Road. The access point for canoes and kayaks is a sandy beach on the right side of Trinity Church Road. The site is part of the Water Trails of St. Mary's County. A 6.5-mile roundtrip goes from Great Mills Launch area to the Tippity Whichity Island, or from Great Mills to St. Mary's City along the the shoreline.
Trinity Episcopal Church is a site on the Southern Maryland Religious Freedom Byway, a route of historic sites dealing with the establishment of religious freedom in the U.S.
Suggested Links
Contact Information
Maryland Department of Natural Resources
11175 Point Lookout Road
Scotland MD 20687
301-872-5688
Website