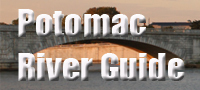 Potomac Riverwatch: Fall 2017
NEWS
The Wharf,
a huge new development on the Washington Channel near the Anacostia waterfront, opened its first phase October 12, bringing 20 new restaurants, entertainment facilities, and shopping. The ten-acre site will have places to rent kayaks and paddleboards to explore the Channel and nearby Potomac sites. The Washington Fish Market, at the western end of the site, managed to stay open during construction and is expected to survive the opening and continued construction of Phase II.
The Lockkeeper's House, a 185-year-old structure that once guided boats through Tiber Creek and the canals of Washington, DC, was moved from its location on Constitution Avenue and 17th Street N.W., to a new home--exactly 30 feet inland. The house, originally built in 1832, was located on the curb of a very busy intersection. It is the first step in a major renovation to the Mall, which will include rehabilitation of nearby Constitution Gardens.
Berkeley County, West Virginia is considering a proposal to develop the "Sportsman's Paradise" area along the Potomac for improved river access. Currently, the county doesn't have any public access sites on the Potomac, although its shoreline extends from north of Shepherdstown to near Big Pool, Md.
EVENTS
October 19--Fall Foliage Paddle at Mallows Bay -- Mallow's Bay on the Potomac River is home to a "ghost fleet" of over 200 partially submerged wooden vessels. These boats were built during World War I to carry supplies across the Atlantic Ocean, and when they outlived their life span, they were laid to rest in this serene bay in Nanjemoy, Maryland. Potomac Conservancy is sponsoring a tour, tickets are required. Details
October 29--50th Anniversary of Theodore Roosevelt Island--The Friends of Theodore Roosevelt Island will be joining the National Park Service to mark the 50th Anniversary of the creation of Theodore Roosevelt Island park. Speakers include Tweed Roosevelt, grandson of TR, and other authors. Activities include walking tours, historical reenactors, and the Teddy Bear Storytime for Kids. Details.
November 11, Cleanup at Fletcher's Cove -- The Potomac Conservancy and the C&O Canal Trust will be cleaning up the area Fletcher's Cove in D.C. More information.