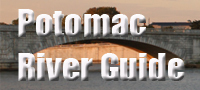 Piney Point Lighthouse and Museum
County Park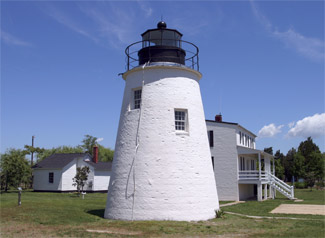 Piney Point has been a summer resort since the days of President James Madison. Today, it still lures many summer visitors with its vacation houses, waterfront restaurants, and easy access to boating facilities. A new attraction here features the Piney Point Lighthouse Museum that focuses on the oldest permanent lighthouse on the Potomac. The exterior of the lighthouse, a 35-foot tall brick tower, has been partially restored. The lighthouse began operation in 1836, with a light that could be seen for more than 11 miles. The lighthouse functioned until 1964, when it was replaced by a lighted buoy in the river. The museum and lighthouse can be visited from dawn to dusk. A boardwalk, flanked by plaques describing the history of the area, leads to the river. No swimming, fishing, or camping is allowed. The museum building contains exhibits on the history of Potomac lighthouses and has a small gift shop. A public boat launching area is nearby. The site was a summer resort in the early 20th century; during the Civil War, a federal gunboat captured a Confederate camp on the point on January 5, 1864. Several full service marinas can be found on Piney Point as well as a large tank farm operated by Steuart Oil Company. The grounds of the Piney Point Lighthouse park are open 7 days a week from sunrise to sunset.
Piney Point is part of the "Find Your Chesapeake" project of the National Park Service and the Chesapeake Conservancy. Click here for details.
Yelp reviews for the Piney Point Lighthouse are shown below.
Contact Information
St. Mary's County Parks
44720 Lighthouse Road
Piney Point MD 20674
301-769-2222
Website